2015 Milan Design Home Show ROOY Series Review
01 January, 1970
Brand Interpretation:ROOY 's innovation is the theme of nature and a new attempt.China has a longand rich history.
Againstthe backdrop of globalization, the traditional Chinese lifestyle and thecontemporary Western lifestyle kept
conflicting and converging with each other. The traditional lifestylecould be too serious andtherefore put restraint on creativity, while contemporary creativity could easily lose its localness.
Is there a perspective that couldfeed on both the traditional and the contemporary, and roam freely in
both worlds?
The intention of ROOY was to create a lifestyle that's relaxed, pleasant and tasteful. I believe Nature as an enduring theme serves as a bridge between past and future, East and West. With Nature and Creativity at its core, ROOY is a bridge that aims to guide the East and the West into the freedom and delight they both long for. It contains the "light fan", "Feng Fan", "View of Stone" and several works have conveyed their natural aesthetics andtraditional culture of love, and proposed a more relaxed way of life, liberating people from the tense repeated life.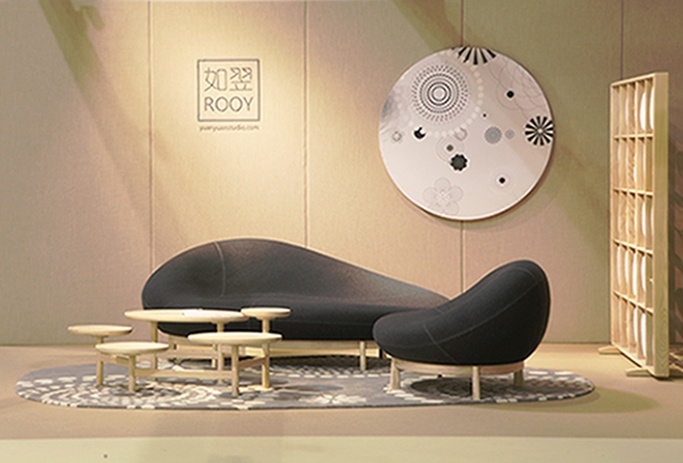 Brand introduction:Design is the bridge of connection between people, through creative design, to be able to convey the nature of life, love and thinking of art to others is to share the good design.Yuan Yuan Design Studio unveiled the furniture brand ROOY in 2015. It interprets Chinese traditional culture and modern life uniquely, innovatively,and concisely. ROOY will provide an experience and perspectives of life that embrace elegance, individuality, and modernity.
"如翌" (ru yi)means "just like tomorrow or the future". We are always full of hopes and expectations for the nearfuture. We use ROOY, an alteration of the Pinyin for "如翌", for our brand name.
"如翌" is homophonic to "如意" (Ruyi, an S-shaped ornamental object, usually made of jade or metal), which means "after one's own heart or as one wishes". We extend our warm, sincere wishes to you.